Discography
Ancient History (before 1980)
Discography Menu
Ancient History
Nigel's recording life began in the mid 1970's; although still at music school in London, pretending to study the guitar, he was actually more busy playing lute (and other early instruments) with some of the wonderful pioneers of Early Music in Britian - artists such as David Munrow and Alfred Deller. It was a fortunate way to begin, to be surrounded by so many excellent musicians all much older and wiser! For those interested, keen "record" (LP) collectors, you may spy Nigel playing on some of the LPs listed below, but probably playing viol, cittern, rebec, even Violin, as well as Lute/Theorbo/Baroque Guitar:
Early Music Consort of London (dir. David Munorw)
Instruments of the Middle Ages and Renaissance, EMI SLS 988/2 Discs (1976)
Monteverdi, 1610 Vespers, EMI SLS 5064/ 2 Discs (1976)
Purcell "Birthday Odes", EMI ASD 3166 (1976)
Monteverdi's Contemporaries, EMI (1977)
Deller Consort/ Alfred Deller with the Morley Consort/David Munrow
Deller Consort/ Alfred Deller with the Consort of Six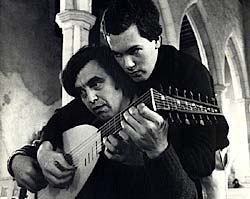 With Bob Spencer, 1977, England , recording Dowland's duet for two on one lute. Bob was the best mentor, friend, musician and support that I could ever have wished for.
Hilliard Ensemble
Popular music from the time of Henry VIII Saga 5444, LP (1977)
Academy of Ancient Music (dir. Christopher Hogwood)
Purcell "Theatre Music", Decca Florilegium various LPs (1975- 7)
Vivaldi "Stabat Mater/Nisi Dominus" Decca Florilegium DSLO 506, LP (1976)
Mathew Locke "The Tempest", Decca Florilegium DSLO 507, LP, (1977)
Vivaldi " Le Quattro Stagioni"
And you can hear Nigel on at least 3 different versions of Vivaldi's Four Seasons.
John Holloway (violin)/ La Grande Ecurie (dir.Jean-Claude Malgoire), CBS 76717, 2 LPs (1978)
Simon Standage (violin)/ English Concert (dir. Trevor Pinnock), DGG Archive, 2534 003, 2 LPs (1982)
Academy of Ancient Music (dir. Christopher Hogwood), various Soloists, all 12 concertos of Op.8 (including the Four Seasons), Decca Florilegium, 4 LPs (1983)