Present
2009
This year will bring the release of the 4th CD of lute music by John Dowland "The Queen's Galliard" (Naxos, 8.570258 March 2009). A further recording of works by Robert Johnson, also for Naxos, will be released in 2010.
The Project "Les Luthistes" for Atma Baroque (Montreal) has Volume 1 just released ( Vallet "Le Secret des Muses" – see below) and this is the first of several CDs of music by 17th Century French lutenists . The 2nd CD, due to be recorded in 2006 and released in 2007 will be music of François Dufault.
Nigel's most recent CDs (1999-2008)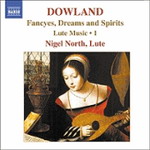 1) John Dowland Lute Music
Volume 1 "Fancyes, Dreams & Spirits"
John Dowland's complete Fantasies contrasted with lighter, shorter character pieces such as "My Lady Hunsdon's Puffe" and "Mrs White's Thing".
Naxos - 8.557586 (2006)
Listen to Track 22:Farewell "In Nomine" (4'34")
Volume 2 "Dowland's Tears"
Dowland's "Lachrimae" and other melancholy music heard in the context of paired Pavans and Galliards.
Naxos - 8.557862 (2006)
Volume 3 "Pavans, Galliards and Almains"
Seven "suites" of Pavans, Galliards and Almains
Naxos - 8.570449 (2007)
2) Musical Banquet Monika Mauch (soprano) Nigel North (lute)
Music for voice and lute, from the songbook compiled by Robert Dowland (1591-1641), son of the great English lutenist-composer. Selections include music by John Dowland, Guillaume Tessier, Daniel Batchelar, Giulio Caccini, Pierre Guédron and more. Crystal clear delivery of the songs by Monika Mauch, last heard on ECM with the Hilliard Ensemble on "Morimur" and peerless lute-playing from early music expert Nigel North who makes his ECM debut here, and also contributes liner notes.
ECM New Series 1938 4766397 (2008)
www.ecmrecords.com
3) Madame d'amours
(Music for Renaissance Flute Consort)
The Attaignant Consort/Kate Clark (with Nigel North)
RAMÉE RAM0706 (2007)
www.ramee.org
4) Lute Songs
Charles Daniels (tenor)
Nigel North (lute)

Songs by Ferrabosco, Morley, Campion, Ford, Rosster, Jones and Pilkington
ATMA Classique ACD2 2548 (2007)
5) Nicolas Vallet "Le Secret des Muses"
Lute music by the French lutenist who lived and worked in Amsterdam. Written for the 10 course lute, Vallet's music is not only full of tuneful variety and idiomatic lute music but also has many serious contrapuntal pieces and sets of variations.

6) "Go from my Window"
English Renaissance Ballad Tunes for the lute by John Dowland and his Contemporaries

Music by Dowland, Byrd, Robinson, Cutting, Batchelar, Danyel, Johnson, Collard and Anon.

Nigel North plays 2 lutes; an 8 course Lute by Paul Thomson, Bristol, 1999 & a 9 Course Lute by Paul Thomson, Bristol 1995 both after 17th century models.
Listen to Track 5: Byrd "My Lord Willoughby's Welcome Home" (2' 07")

Listen to Track 16: Collard "Go from my Window" (4' 32")

7) "A Varietie of Lute Lessons" (published by Robert Dowland, 1610)
Music for solo lute by Dowland, Morley, Batchelar, Holborne, Ferrabosco, Huwet, Laurencini, Ballard

Nigel North (9 course Renaissance Lute, by Paul Thomson, 1995)

8) Bach on the Lute Box set, Volumes 1-4
BWV 1001-1006 and BWV 1007-1012

in new transcriptions for the Lute by Nigel North